Can we really do that?
It only costs how much?
The top two responses we get from clients during kitchen refinishing consultations: Can we really do that? It only costs how much? It's easy to assume that the kitchen we want, could never come from the kitchen we already have, but in many cases, a kitchen refinish opens the door to many options we probably weren't aware of.
Follow along as we share 4 recently refinished kitchens, with update options you probably didn't know about.
Kitchen #1 Options:
Hinges, Heights & Moldings
Heights: A new trend in kitchen remodeling is to vary cabinet heights to add interest and accessibility. Notice how low the microwave was in the above image. By raising the microwave cabinet, we made it easier for the chef to see what's cooking. This is the type of much needed adjustment that often goes unnoticed, until you do it. Then you wonder how you ever cooked without it.
Hinges: One common element of kitchen enhancement is hinge and hardware updates. Most kitchens can be up-fitted to accommodate new hinges. The European style, hidden hinge system shown below is one way to achieve a newer look. New hinges are often more adjustable and a soft close option is also a nice feature to consider.
Moldings: Perhaps one of the best compliments we get from our clients is when we add crown molding and light rail. Crown molding really makes a big statement, without making a big dent in the wallet and we're all about more bang with less buck.
Kitchen #1 Before and After Slideshow Gallery Below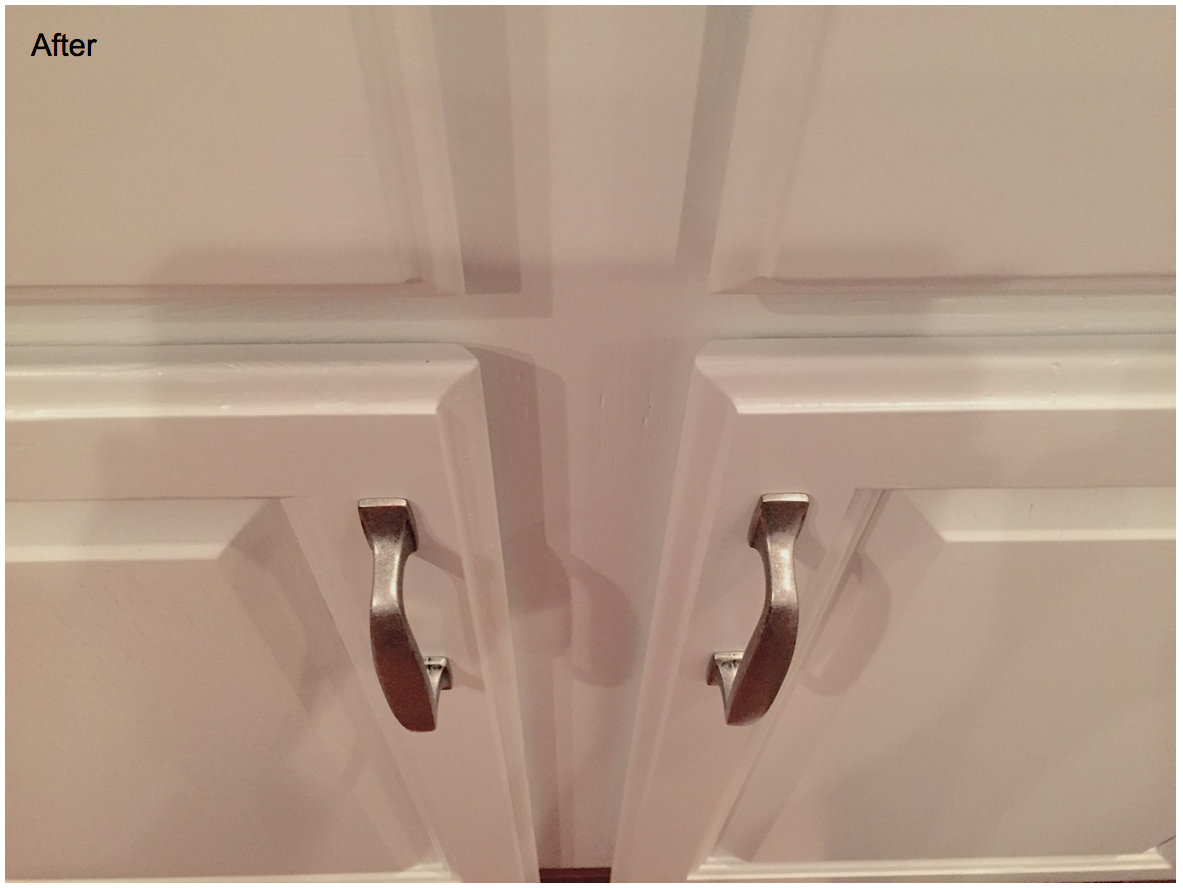 Kitchen #2 Options:
New Doors, Drawers and Hardware
New Doors and Drawers: Okay, this is the part where our clients are most often astounded at the affordability of what Inspire by Color offers. Doors and drawers can be made out of various materials, depending on the quality of your existing cabinetry. This kitchen had doors that were made of MDF material, which is essentially sawdust and glue, compressed and shaped to form a hard surface. MDF is a common material in residential home construction, but its durability isn't the best, when used near water sources.
The image above shows cabinet doors at the sink area. Notice how the MDF is swollen and cracked open from the moisture. We removed the old doors and added new, solid wood, shaker style doors. I know you're thinking this must cost almost as much as all new cabinetry. The answer is no; we're still at a quarter the cost of cabinet replacement, including a complete refinish. Yes, we're that good. Yes, it's that easy. Once your new doors and drawer fronts are installed, all we need is a fresh new hardware.
Kitchen #2 Before and After Gallery
Kitchen #3 Options:
Simply White Please
Sometimes the simplest option is the easiest option. This kitchen refinish was very rewarding for our client, because she already loved her kitchen. She even loved her existing hardware, but simply didn't like the colors. A complete refinish of the cabinets, a new countertop, appliances, wall color and back splash (not shown) and she was ready! Below is a slideshow gallery of the transformation.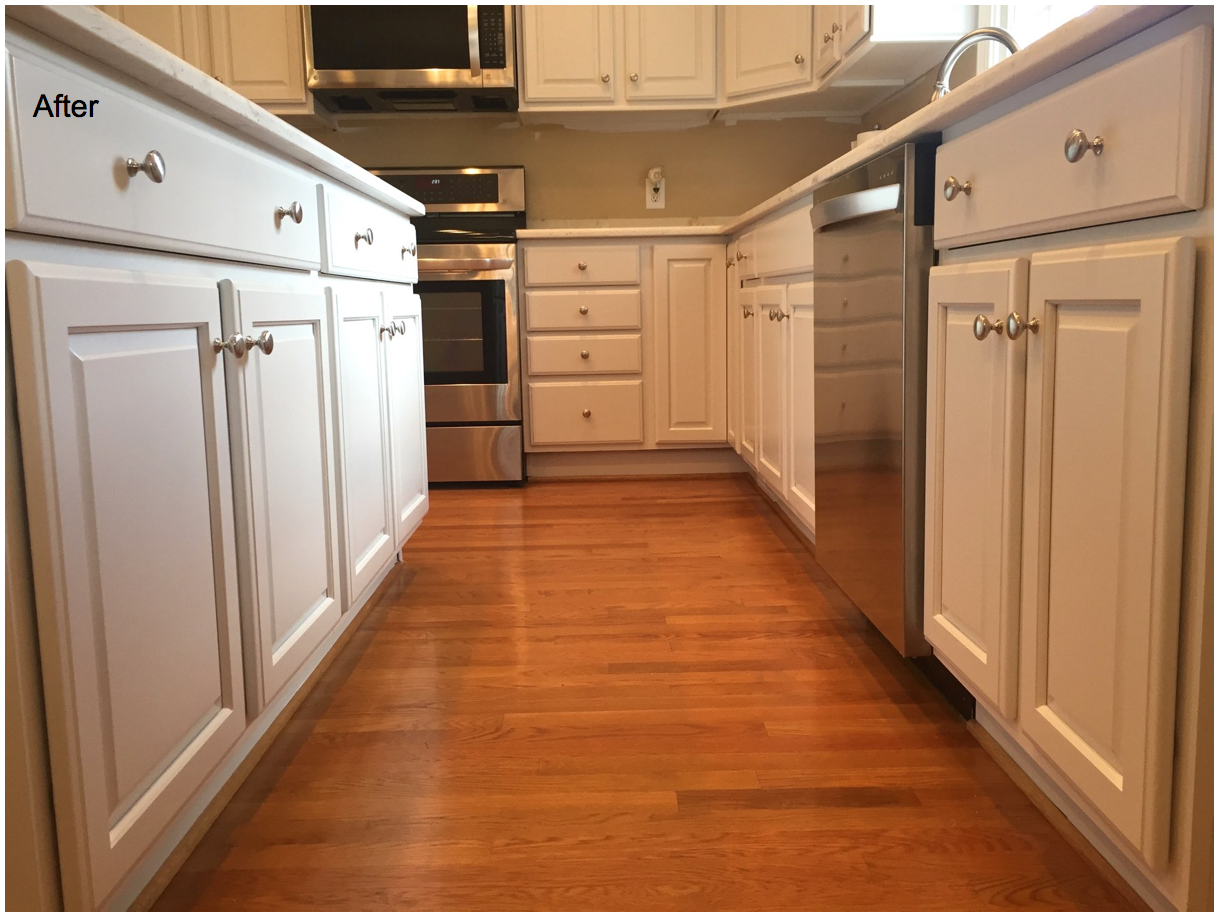 Kitchen #4 Options:
Rockstar Black Please
This final kitchen received what we've called the "Rockstar" treatment. White cabinets have been the hottest trend for quite some time, but this Maryland client wasn't influenced by popular opinion. This Gourmet Tuscany Kitchen features, custom finished walls by Inspire by Color and a huge central island that comfortably seats 6 while the hosts prepare meals and wine tastings for friends and family regularly. We chose heavy, brushed nickel hardware to adorn the slick, satin black. The vaulted wall of windows offer ample light for this high traffic kitchen / home office. Below is a slideshow gallery of the transformation.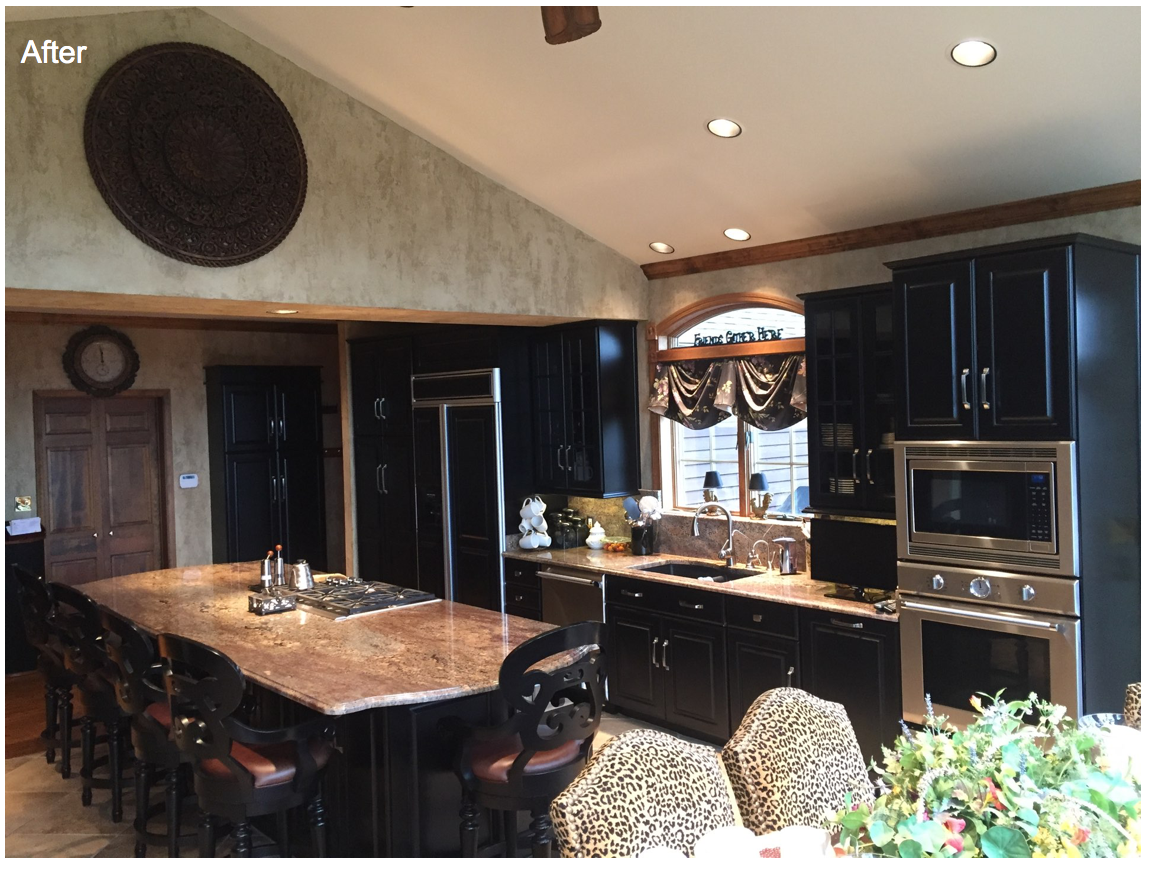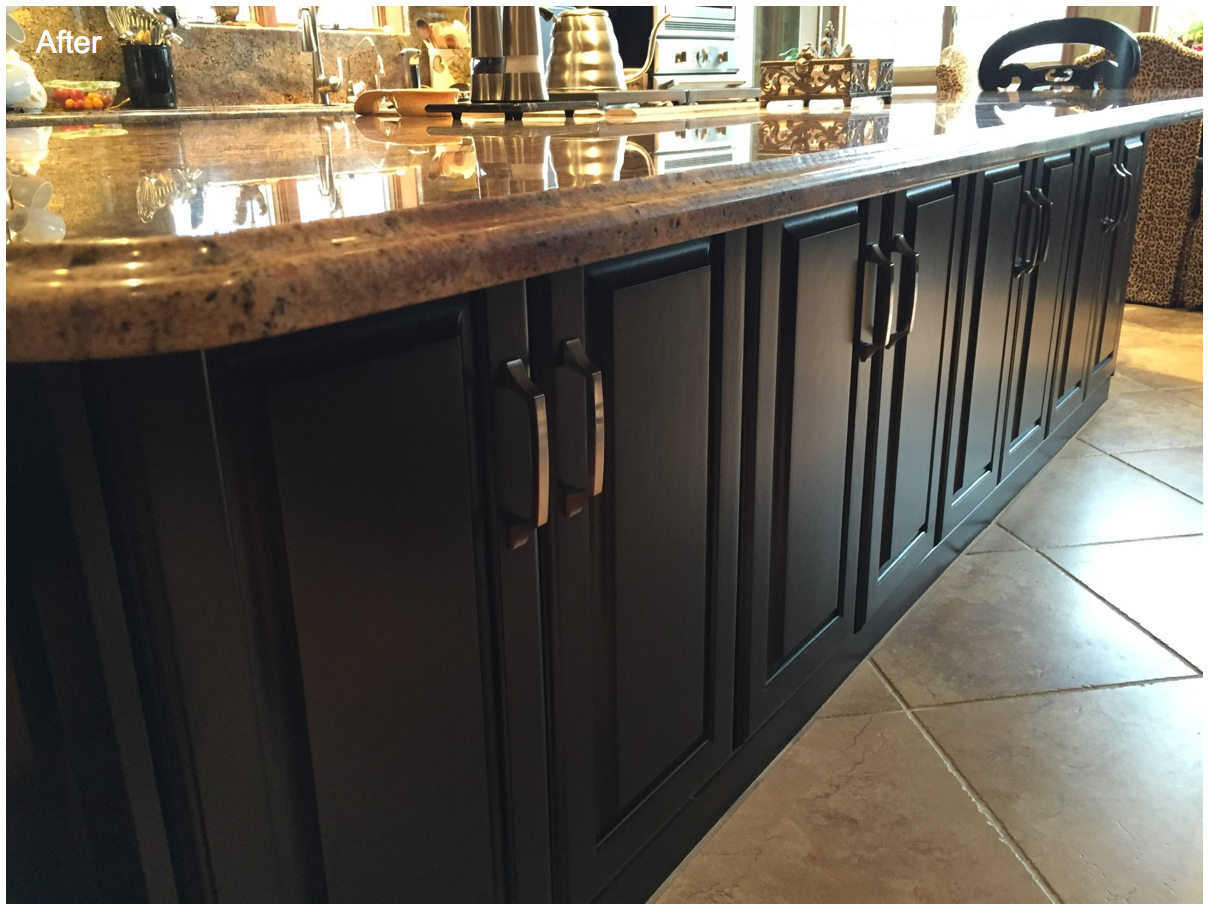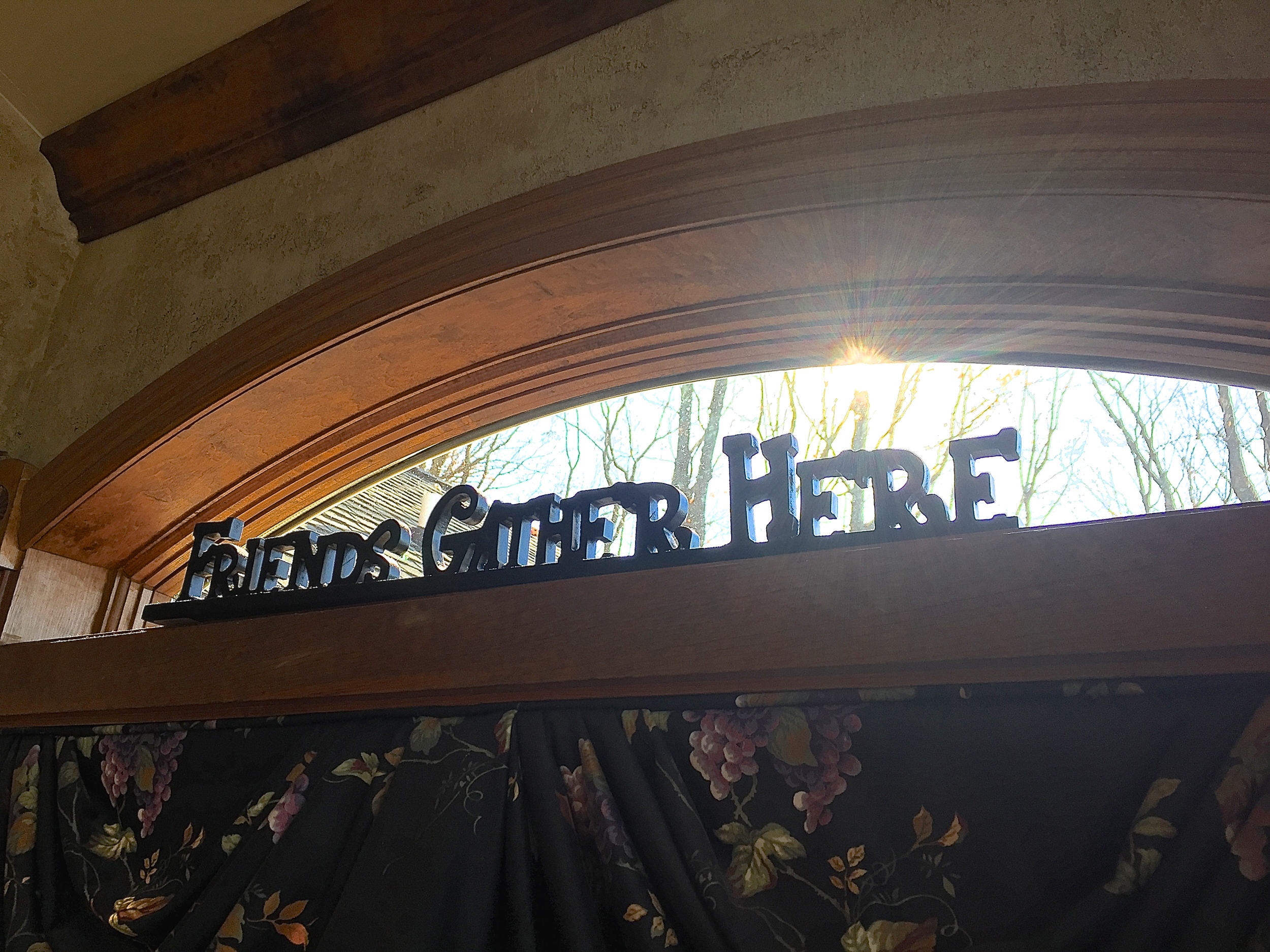 Inspire By Color offers superior quality kitchen refinishing. If you have not considered kitchen refinishing in Greensboro, NC before, here are a few great reasons to choose this cost effective, time saving alternative to replacing your kitchen cabinets.
Kitchen cabinet refinishing is a better choice than ripping out cabinets because you're not plunging your much loved kitchen in dust, plastic and a seemingly endless vortex of costs. While being spared the inconvenience and expense of installing new cabinets, our experienced team at Inspire By Color can completely restyle your kitchen cabinets while saving time and money.

If your kitchen layout is functional and the kitchen cabinets are structurally sound but they're simply tired looking, dull, faded and chipped you are the perfect candidate for kitchen cabinet refinishing. Inspire By Color in Greensboro, NC, exhibits expertise in furniture finishing, kitchen remodeling and refinishing. The latests techniques and technology paired with talent, vision and timeless methodology has enabled us to bring cabinet resurfacing to today's modern kitchens. A variety of looks, colors, styles, textures and finishes can completely transform and customize the appearance of your kitchen. Make your reworked kitchen style the talking point of your dinner parties. Your kitchen is arguably the hardest working room in your home. From serving the family breakfast, lunch and dinner to those in between snack stops, to a cup of coffee and cake with a dear friend, life's best moments are spent in the kitchen. Your kitchen deserves the attention only we at Inspire By Color can give it.

The advantages of cabinet refinishing includes saving you over half the money you would spend on a full remodel, resurfacing involves a lot less time in man hours, which means you will have your kitchen back to yourself again in no time. Make the smart decision. Call the team at Inspire By Color today. We are a leading service provider in kitchen renovation and kitchen refinishing.